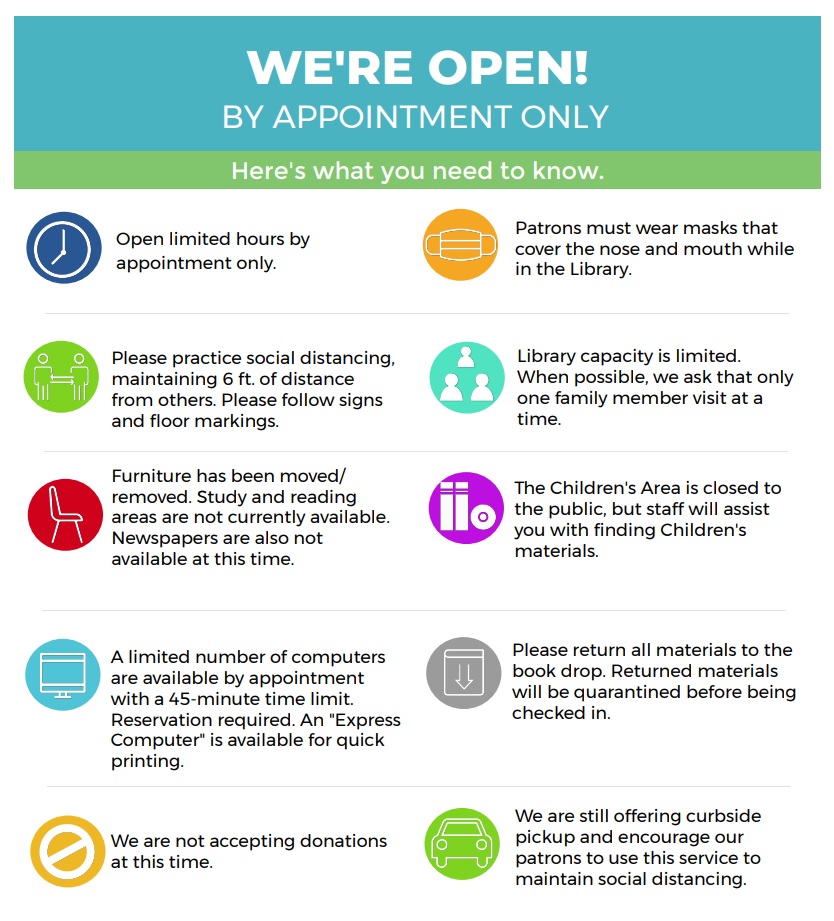 Reopening FAQs for Library Patrons
Is the Library open?
Yes! We have been "open" for over a month now, offering Curbside Pickup service only. We are happy to announce that we are moving into Phase II, which means that as of June 15th patrons will be allowed into the Library by appointment. While the Library will still be offering Curbside Pickup for holds, patrons will also be able to make 1-hour appointments to use a computer, get 1-on-1 reference/readers advisory assistance with a staff member, for copying/scanning materials, or to browse.
Click here or see the PDF attachment on the right side of this page for a list of our Reopening Procedures.
Do I need to spend a whole hour at the Library if I make an appointment?
All appointments are for a 1-hour window during which you can visit the Library, but you do not need to arrive exactly on time or stay for the full hour. For example, if you make an appointment to visit the Library at 10:00 am, you can come in anytime between 10:00 am and 11:00 am but the appointment does end at 11:00 am to accommodate the next group of patrons. There will be tape in the lobby designating where to stand, 6 ft. apart, in the event that there is a line outside of the Library. Please note that arriving early will not grant you early access to the Library – please arrive within the time frame of your appointment to allow for proper social distancing. We understand that this is not what you're used to when visiting the Library and we thank you for your cooperation as we do our best to safely and gradually resume in-person services.
Can I bring my children to the Library?
Since our capacity is limited, we do suggest limiting your party when you visit the Library. However, we understand that you may need to bring your child(ren) or other family members with you. Please let us know when you make your appointment how many people will be with you. Keep in mind that the Children's Area is currently closed to the public, so the seating area and play areas are not currently available for use.
What if I need something from the Children's Area?
The Children's Area is temporarily closed to the public, but a staff member will be available to assist you and to retrieve children's books from the shelves. There is also browsing display of children's books in our quick-browse section near the Express Books.
Can I enter the Library without a mask?
According to the Governor's Executive Order 20-30, patrons must wear a mask that covers their nose and mouth at all times while in the Library. If you are unable to do so, we encourage you to take advantage of our Curbside service or call us ahead of time, so that we can accommodate you and expedite your visit as much as possible. We thank you for your cooperation.
Can I browse the Library stacks?
Yes! Our capacity is currently limited to 10 patrons at a time, so you will be able to browse the stacks while social distancing from one another.
Can I use the restroom?
Yes. The Men's and Women's rooms are open to our patrons, but only one patron is allowed in at a time, so please knock before entering. The restrooms are cleaned regularly throughout the day. The "Children's" restroom is now designated as the Staff Only restroom to better maintain social distancing.
What if I do not have an appointment to visit the Library and only want to use the restroom?
At this time, people are only allowed in the Library if they have an appointment, and that includes the restrooms. Town Hall visitors who need to use the restroom should call the Town Hall.
Can I read the newspaper or magazines while I'm in the Library?
For health and safety purposes, there are currently no seating areas available for sitting down to read and these materials will be off-limits. If you would like to check out a back-issue of a magazine, please speak to someone at the Reference desk and they will assist you.
If I'm in the Library and forgot to use the book drop for my returns, can I return my books at the Circulation Desk?
Yes! We now have a book drop at the Circulation Desk, so that you can return your items safely. If an item doesn't fit in the book drop, a staff member will take it with gloves and place it with the other returned items in the quarantine area.
Can I print, copy, and fax items?
Yes! Patrons who are in the Library by appointment can use the copier and printer and we can fax items for them. We have three computers available by appointment and one "Express" computer available for quick printing. If you need to use the computer for more than 10 minutes, please mention this when you set up your appointment, so that we can ensure that you get a 45-minute computer reservation.
Do we sanitize books?
The recommendation from the Northeast Document Conservation Center (NEDCC) is that the best way to disinfect books and paper materials is by quarantining them for 24 hours. We are following this recommendation and quarantining all returned materials for 24 hours before handling them. As a result, after returning an item, your account will not immediately show that it has been returned. We will backdate all returns so that they show that they were returned on the correct date and so that overdue fines do not accrue during the quarantine period.
Are due dates being extended?
All due dates have been extended to July 1st. However, going forward, books checked out after June 11th will have their standard due dates, as these items will be due after July 1st (3 weeks plus 2 auto-renewals). See our Borrowing Policies here: https://coventrylibrary.org/borrowing-policies ). If you believe that you cannot return an item on time and are worried about accruing fines, call the Circulation Desk at 822-9100 and we will do our best to accommodate you.