#CovTeenTakeover | Check out the Teen Area!
The Teen Area, otherwise known as the Young Adult area, is home to all* of the Young Adult materials and resources, as well as games and activities to enjoy while hanging out at the CovPubLib!
Take a tour through our Teen Area and see for yourself…
What can be found in the Teen Area:
!NEW! YA Fiction / Graphic Novels / Audio Books

All YA Fiction / Graphic Novels  / Audio Books

Copies of The Teen Zine—the flyer for all activities and volunteer opportunities happening at the CovPubLib for teens in grades 6-12

You can also see a list of our Teen Events by clicking here!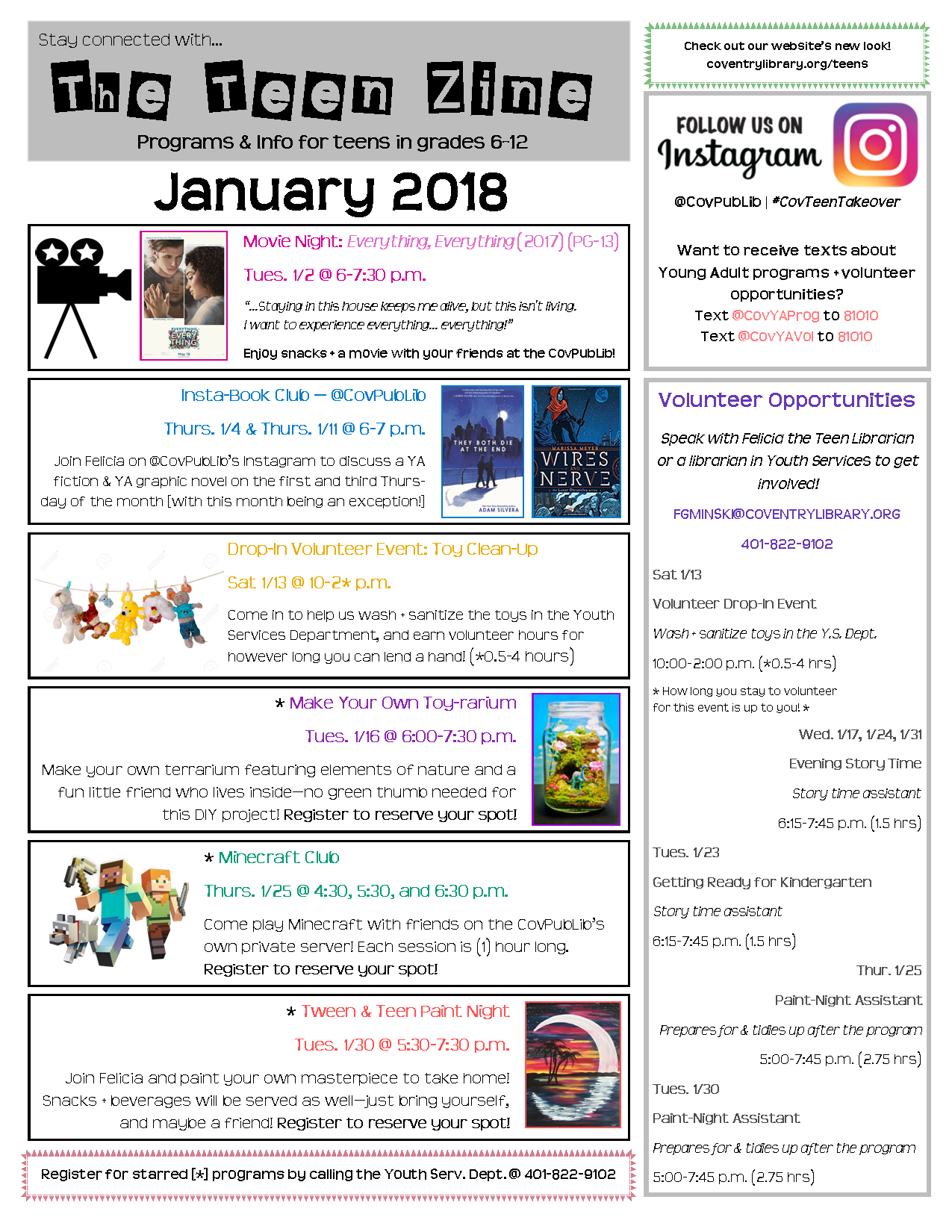 You can right-click this image to open it in a new tab + zoom in to get a better view!
Check out our…
Board Games, Card Games, and Puzzles

Boredom Busters

Featured bins in the Teen Area contain materials such as scrap paper, patterned paper, scissors and glue sticks, origami materials, coloring pages, crossword puzzles / Sudoku puzzles / word searches – feel free to peak through when you're looking for something to do!

Monthly Drop-In Crafts
A special feature we currently have in the Teen Area is our Community Coloring Page!
Feel free to stop in and contribute a bit of your creativity to this page, and let's see the Coventry community work together to create a fun display of color!
Speaking of creations… we want to display your artwork!
If you're a teen in grades 6-12, you can leave a piece of artwork (preferably on paper, as opposed to canvas/other materials, and no bigger than 12" x 12") in the bin featured near this display, and we will post it on our bulletin board in the Teen Area to showcase your artwork to the community!
Please note—we ask that you not include any personal or revealing information on your artwork, for safety + privacy reasons. At most, your first name and age are acceptable; otherwise we will not be able to publicly share your work. If you would like to share your artwork, but want to leave contact information with a librarian in the event that you would like your artwork returned to you after it has been displayed—please speak with a librarian in-person in the Youth Services Department.
Artwork will be shared at the discretion of the Teen Librarian—as long as your artwork isn't inappropriate, hurtful to others, or otherwise unsuitable to be displayed in a public environment where people of all ages can see it—we'll be happy to share your creations!
Please consider filling out our (quick!) 10-question survey
to let us know what we can do 

to best accommodate 
our teen patrons and improve upon

our
Teen Programs + Teen Area!
We also offer text-reminders for teen programs + volunteer opportunities!
Text @CovYAProg to 81010 to receive text updates/reminders about upcoming programs for teens,
or to remind you of a program that you have registered for!
Text @CovYAVol to 81010 to receive text updates/reminders about upcoming volunteer opportunities
for teens, or to remind you of a volunteer opportunity that you have registered for!
A lot has changed involving teens in the Coventry Public Library...
our teen area has changed, and so has our teen librarian!
Check out

this blog post (link coming soon!)

 to learn about all the changes made (and to meet Felicia, the newest Teen Librarian), and consider filling out our (quick!) 

survey

that will help us improve Teen Programs + the Teen Area!
*Young Adult Nonfiction materials can be found intermixed with Adult Nonfiction materials.